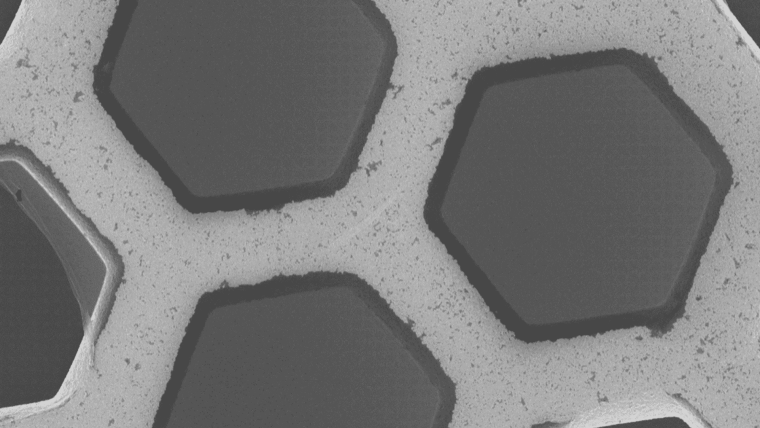 4th Workshop "2D materials for filtration and hydrogen technologies"
Free-standing 1 nm thick Carbon Nanomembrane (CNM) on a supporting holey substrate
Date:    10.11.2021
Time:   14:00 - 17:00 Uhr
Participation:   In-person                                                           
                           Zentrum für Angewandte Forschung Jena
                           Philosophenweg 7
                           07743 Jena
                           Online
                           Zoom
Languages:      German/English
Since the discovery of the electrical and optical properties of graphene and other 2D materials, the focus of research shifts more and more to investigation of their membrane properties. This interest is based on the unique permeation properties of nanomembranes made of 2D materials such as (i) ballistic transport of substances, (ii) high selectivity for gases, liquids (incl. water) and ions (incl. protons and Li+), as well as (iii) high mechanical and chemical stability. However, pristine graphene sheets are impermeable for nearly all atoms and molecules except protons. Therefore, to achieve the desired functional properties, well defined defects, i.e. nanopores, have to be introduced via post-treatment or during synthesis. Alternatively, the membranes can be prepared as multilayer laminates.
The progress and potentials for implementation of 2D materials in filtration and hydrogen technologies will be discussed in this workshop.
You can register here. Participation is free of charge.
Time
Program
13:45
Opening of the virtual conference room
14:00
Welcome
14:05
Selective diffusion of small molecules in 2-dimensional composites, for industrial gas and water purification
Prof. Dr. Vincenzo Palmero, Institute for Organic Synthesis and Photoreactivity, CNR - National Research Council of Italy
14:35

2D-Membranen für die Stofftrennung
Prof. Dr. Ingolf Voigt, Fraunhofer Institute for Ceramic Technologies and Systems (IKTS)
15:05
Separation with Carbon Nanomembranen
Dr. Albert Schnieders, CNM Technologies GmbH
15:35
Short presentations (4 min talk + 1 min questions)
Introduction of participants from academia and industry
16:35
Discussion round with all participants
16:55
Closing words
17:00

End of the event